Exclusive: Steve Alten On The Meg Movie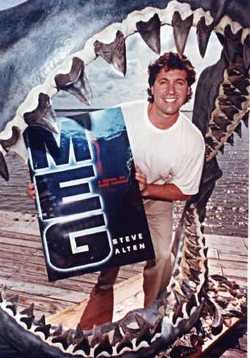 A few days ago, bloggers went wild with the news that author Steve Alten's best selling Meg would not become a movie from New Line. Fans of the terror-filled thriller were disappointed, as was Alten. Yet Alten, who's now hunkered down on his fourth Meg tome, displayed a fair amount of optimism when he graciously took the time to answer questions in this exclusive AMC Monsterfest interview. (His candid comments about the film can be found after the jump.)
HG: If folks aren't familiar with the Meg series, what would you tell
them about it to get them gunned up?
SA: The Meg synopsis: Seven years
ago, navy deep-sea pilot Jonas Taylor found himself on a top-secret
dive in the Mariana Trench, the deepest, most unexplored realm in the
ocean. Seven miles down he came face-to-face with the most fearsome
predator ever to inhabit the planet–Carcharodon Megalodon– the 70-foot
70,000 pound prehistoric cousin of the great white shark. Rushing his
submersible topside, he barely escaped, but his actions cost the lives
of the two scientists on-board the vessel, as well as his career, the
Navy dismissing his claims as mere "aberrations of the deep."
Jonas (now a paleobiologist) is still trying to prove to the world that
the creatures exist, harbored in a warm-water current created by
hydrothermal vents at the bottom of the gorge, trapped beneath six
miles of freezing waters. When an opportunity to return to the Mariana
Trench presents itself, he takes it, intent on returning topside with a
7-inch white tooth. But man's presence in this unexplored domain
releases one of the sharks from its purgatory, and now Jonas is the
only one who can stop it.
HG: Can you tell me how you got the original idea for Meg and what
changes/tweaks you made to the original idea along the way as you wrote
the book?
SA: When I was a teen, I loved reading about shark attacks and there
was always a one paragraph blurb about Megalodon, but nothing more. I
decided to become an author after reading a Time magazine article in
the summer of 1995 about the Mariana Trench and hydrothermal vents. It
seemed the perfect, logical place to find these amazing creatures,
which only died off (allegedly) recently.
The original concept changed from a team oriented group hunting the Meg to one protagonist.
HG: You sold your car to pay for the editing of Meg. How tough were those times?
SA: They're still tough, but back then…very challenging. I had closed
down a business selling whole-house water treatment systems and ended
up as a door-to-door salesman just working for myself trying to sell
the darn things while trying to support a family of five. There were
weeks, even more than a month that I couldn't sell one. It was very
depressing. Meg saved my life. (actually my dad did that by helping me
financially).
HG: When Meg was sold to Disney for a lot of money, what's the first thing you did to celebrate?
SA: That first check paid the bills that had accumulated and moved us out of an apartment into a house. I would eventually lose the home when Disney cancelled and Doubleday cancelled the second book of the Meg deal. (Doubleday was being bought out by Bertlesman, and many front-loaded deals were cancelled.) I've since rebounded, but the road has had many ups and downs, including this latest challenge with New Line.
HG: From books to movies, what horror and terror-oriented sci-fi have inspired you?
SA: I'm a big Dune fan, loved the Fleming Bond novels, Dracula…the list goes on.
HG: Hell's Aquarium will be the fourth book in the Meg series. Can you give us a hint about what kind of plot and terror the reader will be in for?
SA: All I can say is that I have never had more fun writing a novel. The characters are alive, there's humor, action, suspense, and every chapter is almost a story unto itself as I resurrect the most amazing sea monsters in our planet's history.
HG: Tell me about the character contest you have for Hell's Aquarium.
SA: As with all my novels, I offer my readers an opportunity to be characters in my book. They must send me their name, description, and how they will help promote the book when it debuts. I've had about 1000 entries (most wanting to be eaten) and will end up selecting about 60 people. It's fun and helps me immensely.
HG: How many more Meg books can there be? Do you have an end to the series in mind?
SA: I thought I would end it at four, but now I know there will be at least one more book. I tapped into a new vein of inspiration.
HG: In a kind of blow-by-blow way, tell us what happened with the Meg movie — from the Disney movie option to the end of the New Line option?
SA: Disney (actually Hollywood Pictures) optioned the novel with a script attached (Tom Wheeler). The script was lacking. They hired a new screenwriter (Jeff Boam) and his script was not well received either. About that time the VPs starting leaving Hollywood Pictures and the President who had optioned Meg (David Vogel) lost his job. The rights were not renewed and I got them back.
Over the years I penned my own script as a means of enticing producers. In February of 2004 Nick Nunziata and I hooked up for a CNN interview for Resurrection. We discussed Meg and Nick took it t o his friend, Guillermo del Toro. Guillermo showed the book to producer Lloyd Levin, and his partner, Larry Gordon. I gave them an option. They added Jan De Bont as director and Jan and I worked on the script. In early 2005 the package went to New Line. They had been trying to find a project for screenwriter Shane Salerno. Shane loved Meg and the deal was done.
HG: If you could choose, which company and which director would make Meg?
SA: I think Jan will be amazing with Meg. Since we are having on-going discussions with several studios, I will pass on the rest of that question.
Read More