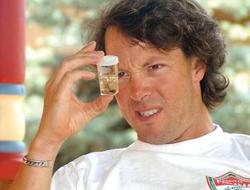 Sometimes, the horror-film nature of real life makes me go, 'Ew!' Witness the fate of unlucky Aaron Dallas from Colorado. I mean, even the headline to the AP story is creepy: Doctor finds larvae living on man's head. That's not like the AP, which usually doesn't go for tabloid-like headlines.
Here's the gross deal: "One doctor thought the bleeding, strange bumps on Colorado man
Aaron Dallas' head might have been a gnat bite. A specialist thought it was shingles, though both doctors held
out the possibility that it was something far more disturbing.
"Then the bumps started moving." It only gets worse from there…
"A doctor found five active bot fly larvae living on Dallas'
head, near the top of his skull, a few weeks after a mosquito
apparently placed them there. 'I'd put my hand back there and feel them moving. I thought it
was blood coursing through my head,' said Dallas. 'I could hear them. I actually thought I was going crazy.'"
This is all just so David Cronenberg. It's like real-life took a scene from the directors 1975 film, Shivers. Heck, the title of the low-budget film where bugs come out of the body's apertures and skin was originally Attack of the Blood Parasites.
You kind of have to wonder if the insects in Dallas' head were just
two-bit actors miming a classic horror film, trying to make a name for
themselves. And They Came From Within!
Read More