Ed Wood: America's Most Prolific Novelist?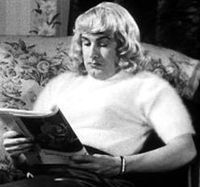 Imagine me staring defiantly into your eyes as your read this. Imagine a trembling lower lip, bulging and unblinking eyes, my entire body swaying like a maniac as I testify. Ed Wood is a classic science-fiction director.
Don't get me wrong: I don't mean to impart that his films are good, whatever that word means. But they are supremely entertaining. Plan 9 From Outer Space, Bride of the Monster and Night of the Ghouls have provided me with more entertainment in my time than the entire collective works of Ridley Scott and Stanley Kubrick. They are stupid, they are ridiculous, they are poorly shot, written and acted… and they are wonderful.
But Ed Wood wasn't just a director of strangely compelling but utterly incompetent science fiction films: literary historians are starting to realize that he may, in fact, be America's most prolific novelist.
With dozens of pseudonyms and almost a hundred titles to his name, each passing year finds another dreadful pulp novel exposed as an addition to Ed Wood's library of smut, which already includes such titles as Orgy of the Dead, Night Time Lez, Hell Chicks and The Gay Underworld.
I've never read any Ed Wood, but if I were to hazard a guess based on his films? His novels suck, but you just can't put one down.
Ed Wood: America's Most Prolific Novelist? [Associated Content]
Read More