Doctor Who Broadcast Online In Canada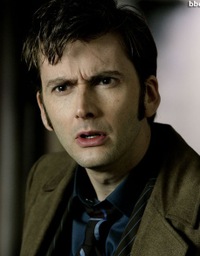 The Canadian Broadcasting Corporation has opted to put all of the episodes of Doctor Who up online to watch for Canadians who missed them. It's a nice gesture, and a step in the right direction, but Cory Doctorow over at Boing Boing doesn't think the CBC's doing enough to guarantee everyone everywhere free Doctor Who.
It's invigorating to see Doctorow perform the unexpected move of pulling out his saber and rattling it about the DRM, since I was afraid that today's Boing Boing posts might not feature the required baker's dozen posts about the subject. I seem catty, and I am being catty, largely because I agree with Doctorow: DRM sucks, it doesn't work and companies need to evolve their business models to embrace technology, not cripple it. But Doctorow is a one-note foghorn blaring incessantly on about the subject, unable to determine nuance or honest intent. He can't stop criticizing long enough to see when a company might be trying to do right.
And in this case, it seems like the CBC is trying to do right: they are making issues of Doctor Who available to watch on their website, after they've aired. Where their hands are tied are in regards to the BBC, but I think even the Beeb is slowly loping towards embracing an online business model.
The online version of Doctor Who is restricted to Canada. It's easy to understand why: the BBC does not want to hobble the ratings of their affiliates in other markets by offering Doctor Who up for free in countries where it has not yet premiered. And they don't want to offer downloads because DVD sales are a huge secondary market for television shows, and they are afraid they'll slit their own throat in that market as well. These are all reasonable fears, the optimistic pipe-dream brigade of Web 2.0 Dorks for Free Media aside.
The bottom line is that the CBC and BBC are trying to do a cool thing for the people in Canada who saw last week's episode of Doctor Who and want to see it again. But it's hard to imagine how their business model — let alone their contractual obligations to stations around the world to supply them with first-run Doctor Who — could stand-up to just open sourcing their creative assets internationally. And it sucks that when a company tries to take a small step in the right direction, a guy like Doctorow is there to spend 95% of his time talking about how they're not doing enough.
In the meantime, for you Canadians, you can go to CBC's website and watch
yourself some Doctor Who if you missed it.
Doctor Who Online @ CBC [CBC]
Read More