Dark City Director's Cut Coming Soon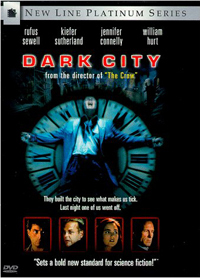 Noirish and nightmarish, Alex Proyas' Dark City was quietly passed over by audiences in 1998, yet dark whispers of its greatness hissed through fandom for years afterwards, elevating it to a classic… and in many ways, it still feels like the spiritual successor to a slew of sci-fi films that followed, from The Matrix to Eternal Sunshine of the Spotless Mind.
It's a favorite of mine, and gloriously, Alex Proyas revealed on a recent interview on Fangoria Radio that he was working on a new Director's Cut of Dark City to be released sometime in the near, unidentified future.
According to Proyas, the new director's cut will contain additional scenes, as well as improved special effects and a new sound mix. There's no release date yet.
Still, this news delights me. I tend to feel that director's cuts are inferior to studio cuts — I do believe editors are artists in their own rights, and directors are not the sole visionaries behind a film and often suffer from the same failing as writers: an inability to prune their work — but for all of Dark City's greatness, it had all the hallmarks of a film with some unfortunately imposed cuts. I can't wait.
Dark City Director's cut coming out! George Lucas Style [Twitchfilm]
Read More