Cyberman Radio For TARDIS Showers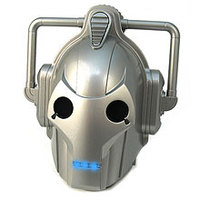 For the man who has everything: a decapitated Cyberman head to perch in your shower's soap dish.
It is perhaps not the geekiest accouterment for a science-fiction nerd's bathroom. I once had a friend who redid his shower in the style of a Star Trek teleportation pad: with water beading down them, the gold-tinted dividers that formed the "curtains" of the tub provided an eerily accurate transporration effect. Or so I imagine: I did not actually stay to watch him bathe, which — given his Trekkie-stereotypical girth — would not have been pleasurable even if I were of the persuasion. Which, before you write me, I'm not, and anyway, as a Trekkie, he didn't bathe. So whatever, forget I mentioned it.
But a robotic head, with a glowing blue mouth babbling FM radio as you bathe? That's geek heaven, even for those who hate Doctor Who. And it's pretty cheap at 20 pounds. Given that bathrooms are often the last room to be converted by the enthusiastic sci-fi-loving home decorator, this should give anyone a cheap push in the right direction.
Dr Who Cyberman shower radio [Gobaz]
Read More