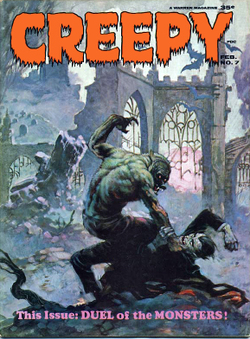 I have to agree with Todd's post about the superior effectiveness of monsters who are mad at each other on their movie posters, rather than chummy and convivial. In a world where so much Entertainment Weekly-style quasi-insider information floats around, it gets ever harder to suspend one's disbelief and take the monsters of the moment seriously.
Lucky thing it wasn't like that back when I was a ten-year-old! I was actually a little younger than ten when the cover to the left came out, but Creepy Magazine was my reading of preference throughout my peak horror years, and I always appreciated the level of intensity their covers aspired to.
Even when they weren't painted by Frank Frazetta, as the cover included here was, there was a certain no-nonsense seriousness to Creepy covers that shaped my expectations of what horror really meant. The essence of all the best horror comics, stories, and (of course) movies was that they ripped the cover off of ordinary, hum-drum reality and showed you the uncanny forces at work beneath it. You got a sense that the world was a much bigger, stranger, and more consequential place than you'd ever even imagined it could be.
Frazetta's Creepy covers epitomized this attitude. It's hard indeed to imagine Dracula and the Wolfman dusting themselves off, grabbing a Red Bull from the catering tray, and posing for some publicity shots after what they're up to here.
Read More