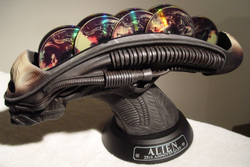 I missed this, and it's probably long unavailable, but this has got to be one of the coolest DVD packaging ideas I've seen. Super scary cool. I reckon this goes in our What Do You Collect, and How Do You Display it? discussion.
The answer: DVD's and in a huge Alien head.
I got this pic from skullface.com where he has a whole picture essay on ordering and assembling it. Super cool. Five Hoofprints (our highest rating). Look for it over the weekend, goatlings.
Read More