Comic-Con Gives You The Creeps!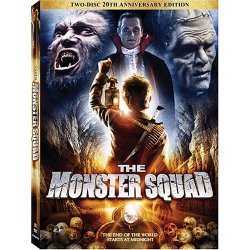 It's not news that the San Diego Comic-Con has been a big thing for comic fans as well as movie buffs and gamers for as long as I remember. But this year, there'll be a fair amount of horror news to give you and me the creeps, the willies and the horror jones.
First, Cinematical has the news that there'll be a Monster Squad panel with cast and director in tandem with the DVD release of the classic horror film from 1987. Monster Squad was campy cool because it featured a megomaniacal Dracula who tries to rule the world with the help of Frankenstein, The Wolfman, The Mummy and The Gillman. Reports Cinematical's Christopher Campbell, "Lions Gate will be promoting the new double-disc release by screening the movie
once in Los Angeles and once in San Diego. And each screening will be
followed by a Q&A featuring members of the cast and crew." The LA event happens "this Sunday at 3pm at the Aero Theater in Santa Monica." The Comic-Con panel is on July 28, at 7:30pm at Pacific's Gaslamp Theater in San Diego.
But wait, there's more. Want to know which great horror comic may see life on the silver screen?
Ryan Rotten at Shocktillyoudrop had a few words with Silent Hill scribe Roger Avary (who did an excellent job with Silent Hill, but probably won't do the sequel). Writes Rotten, "Avary's take on the spooky Dan Brereton comic book The Nocturnals
is still trying to find some life. "I'm seeing Dan [Brereton] next week
– he's going to be at Comic-Con," Avary says. "I'd love to see that
made. I actually gave the comics to (Beowolf producer) Jeff Rapke and was like, 'Check this out, this is the shit!'"
Needless to say, "Nocturnals" fans will have to patiently wait a bit
longer before they see Doc Horror, Halloween Girl and, more
importantly, Gunwitch, on the big screen."
Sure, Gunwitch is cool. But what about the sexy Polychrome and the cool weird gal, Halloween Girl. Then there's Komodo, the Dragon Boy. Here's hoping that Brereton's unique look at a horrifying family of social outcasts hits movie theaters soon.
Read More