Carnival of Souls : the Party that Never Stops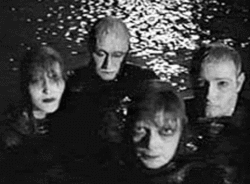 "What are you talking about leaving for? You've got to stay and party!" – Deputy Winston in Cabin Fever
As July – the season of backyard barbecues, beach parties, and other such happy events — winds on, it's good to keep in mind that parties (as our latest movie installment suggests) aren't always all fun and games.
That parties have a sinister side is well known in primitive cultures, where the afterlife is often imagined as a party that never stops. Sounds fun, right? Well, maybe and maybe not. Unending parties can be heavenly, but that heavenliness all too often takes a Hotel-California-style turn, so that we suddenly realize we're not in heaven after all, but the other place.
The best party-as-hell movie ever? In my opinion, the original, Herk Harvey-directed version of Carnival of Souls. In the film, Candace Hilligoss plays Mary Henry, a church organist who gets caught between the world of the living and the dead after mysteriously surviving a car crash in which two other women die. In the climax of Carnival, filmed on location at the fantastically atmospheric (and, sadly, no longer extant) Salt Air Pavilion on the receded shores of Utah's Great Salt Lake, Harvey fills the old pavilion dance hall with people in proto-Night-of-the-Living-Dead ghoul makeup and sets them dancing to Gene Moore's spooky/demented organ music. Anticipating Floria Sigismondi's video for The Beautiful People by three decades, Harvey then speeds up the film so that the dancers take on jerky, mannequin-like movements. The world of the dead, this scene suggests, is a place of pleasurable, convulsively repeated gaieties that, just beneath the surface, really aren't so gay and jolly after all.
Stanley Kubrick was a Carnival of Souls fan: the Overlook Hotel – where the party also never stops, and looks like fun on the surface, but really isn't – was based at least, in part, on Harvey's dark vision of the Salt Air Pavilion.
All of this goes back a long way beyond Carnival of Souls, to a popular fairy and folk-tale motif. When the Grady girls invite Danny to join them at the Overlook "for ever and ever and ever," they're echoing the promises delivered by spirit beings in countless fairy and folk tales who beckon the protagonists to join their supernatural revelries. It's the same theme that's explored, in a slightly different manner, in Peter Weir's Picnic at Hanging Rock. While we never actually see what's going on at the top of Hanging Rock, it's clear that this, too, is one of those supernatural party spots from which you can check out any time you like…
but you can never leave.
Read More