Buy Dracula's Castle! Only $135 Mil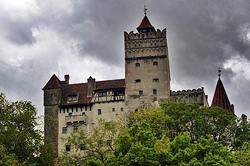 Dracula lives! I
don't know why, but Vlad The Impaler's castle is being sold over in Brasov in "mountainous central Romania." The AP says that a U.S. buyer tried to offer a mere
$80 million for the place last year, but was rebuffed as if he had a necklace
of garlic around his neck.
"Legend has it that Vlad, who earned his nickname because of
the way he tortured his enemies, spent one night in the 1400s at the castle. Bran Castle was built in the 14th century to
serve as a fortress to protect against the invading Ottoman Turks. The royal
family moved into the castle in the 1920s, living there until the communist
regime confiscated it from Princess Ileana in 1948." It's been returned to Vlad's family and has been a museum/tourist
attraction since the communist regime fell.
Wanna know what's inside?
The castle used to be a fortress, so there are secret
passageways in case of attack. One
connects the first floor to the third floor. There's a dungeon, where, supposedly, Vlad stayed when he was there,
which wasn't that often. There's a
saloon "manufactured from
massive nut tree wood and decorated with intarsia of lemon tree wood, and a
German escritoire from the XIX century, ornamented with bone engraved with
biblical scenes." On the top floor,
there's also a room full of creepy hunting trophies.
There's a store online, too. Of the crap over there, personally, I like the Got Blood throw pillow
the best.
Read More