Blair Witch + Godzilla = Cloverfield?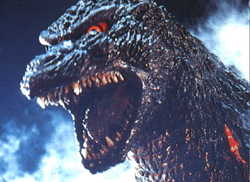 If you didn't think "Blair Witch" could be done again, think
again. Everyone from Ain't It Cool to
Cinematical to The Malaysia Sun is reporting that Matt Reeves is directing a
movie tentatively called "Cloverfield" which will be done with hand held video
cameras. Aint It Cool's calling it "The
Parasite."
It'll be shot in New York City and, says Cinematical of the trailer which
appeared at a screening of The Transformers, "We open with a bunch of
teens partying. Apparently one of 'em is leaving town tomorrow and everyone's
kind of bittersweet about it. Then they hear a giant ruckus and head outside to
see a massive explosion in the distance. Out on the streets people are running
around all panicky-like. Then the head of the Statue of Liberty lands in the
middle of the street and the date of January 18, 2008, pops up. Oh, and it's
all done with handheld video cameras. Basically The Blair Witch Project
meets the Godzilla remake … which means I can't wait to see
it."
You know what? I can
wait. Here's why.
Sure, I like J. J. Abrams, who exec produces the terrific
"Lost" and wrote "Armageddon." And Matt
Reeves, who wrote 64 episodes of "Felicity" and the pilot of "Conviction," is
pretty darn good.
But the whole "Blair Witch" magic can't be captured again,
especially with a bigger budget movie. It'll
just look fake. This isn't a horror
movie that plays on the fears inside your mind, either. The Godzilla aspect makes it a monster
movie. You can't do a monster movie with
cheap handheld video cameras only. I'd
love to see the trailer and the movie, and I'm willing to change my mind. But "The Blair Witch" is the "The Blair
Witch" and that style was a style of the moment, of the times. It can't be duplicated. Nor should anyone try.
Read More