Blade Runner LED Umbrella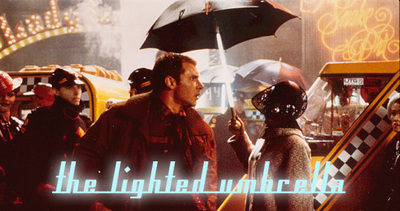 In the grimy, acid-rain stroked streets of Los Angeles, in the year 2019, milk-eyed robots roam, lustful for murder. They look human, they feel human… The only betrayal of their simulacrum of humanity comes from a casual lack of empathy to such thoughts as a tortoise trapped on its back, withering away under the sun. These things can go unnoticed in LA, which has always been filled with monsters. But it's your job. You're a Blade Runner. Sometimes, you wonder if you might be a Replicant yourself, but then you pass it off as mere fancy. No, you're human. The proof? Replicants walk around like idiots in the rain, and you've got a really cool day-glo umbrella.
Of course, in 2007, we don't have Replicants (yet!). Still, some proof of one's own humanity is always a comfort in this crazy, mixed-up, Descartesian world. Think Geek is selling an awesome replica of the trademark Blade Runner umbrella, in both soothing electric blue and glowing red. They're outrageously cheap too, only $24.99. And if you do happen to be a humanoid cyborg, that's a small price to pay to keep the humans' suspicions at bay.
LED Umbrella [Think Geek, via SF Signal]
Read More