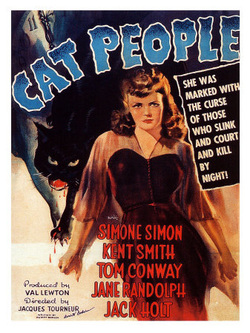 One of those "strange but true" stories making the rounds is about a cat in a Providence nursing home that can predict when residents are about to die.
This story is a reminder that cats, as cute and fuzzy as they can be, are also pretty damn scary. Cats have long been a symbol of horror, especially around Halloween, and didn't get much help from Edgar Allen Poe's famed short story, "The Black Cat". Val Lewton and Jacques Tourneur's 1942 classic is called Cat People, not Ferret People, and when horror filmmakers want to give audiences a quick, easy scare, what is it that jumps into the frame?
In the immortal words of Harvey Keitel in Dario Argento's "The Black Cat" segment of Two Evil Eyes, "It's a cat! A f–king cat! Meow! Meow! A cat!"
So with this in mind, here are some of the best horror movie cats:
Jonsey from Alien – The great thing about Jonesy was that of all the members of the Nostromo crew, he was probably the smartest. He knew that Alien was trouble and knew where to hide. And best of all, he encountered the Alien and didn't get killed or impregnated and survived 57 years of hypersleep. Go going, Jonsey!
Clovis from Sleepwalkers – Clovis is probably the best thing in Sleepwalkers. He's a heroic cat who battles a pair of cat-like humanoids and kicks major ass. I'd even go so far to say that I'd sit through a Sleepwalkers sequel if Clovis starred in it.
Churchill from Pet Sematary – While I'm certainly no fan of this Stephen King adaptation (unlike some of you), I'll acknowledge that Churchill, the resurrected cat, is indeed pretty scary. The idea of your beloved cat coming back to life without you even knowing it was dead, is totally creepy.
The Black Cat from Tales of Terror – Roger Corman's 1962 Poe anthology gives us a faithful adaptation of the classic story with a comical bent that works, which is no surprise considering the overall quality of the Corman/Poe series. The pairing of Peter Loree and Vincent Price are what really make the segment, but when the story wraps up, that cat proves itself to be the horror star.
Read More