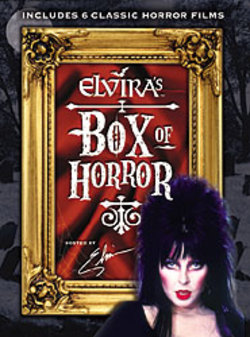 It's a really decent Halloween idea. Come mid-October, The Fox Network will launch The Search for the Next Elvira, a new reality series with the legendary ubervamp hosting the ghoulish festivities. Over at TV Guide, Ben Katner grills the mugging pin-up gal on everything from the show to the Mistress of the Dark's recent DVD compilations.
So is Elvira really ready to store her wig, toss her Goth makeup and retire to a life of watching horror movies (and video reruns of her horror hosting chores)?
And how can you audition for the show?
Actually, the dark diva is only looking for an Elvira clone, er, many of them. Says the real life Cassandra Wilson, "I am not retiring. No, no, not at all. I'm looking for additional Elviras, not replacements. It's the beginning of an army of clones who will conquer the world!"
Maybe they can help with the surge in Iraq. Although Elvira won't be the sergeant to a bunch of clone soldier-ettes, "I hope to have a boob camp — I mean a boot
camp — that we send the Elviras to, and they'll have to learn how to
walk, how to talk, how to make really cheesy jokes…. They'll learn to
do everything Elvira does, so that they'll really become an Elvira,
just like me."
She evens thinks there could be a male Elvira: "The sad thing is that a couple of the [drag versions] actually look better than me, and that's really scary! A couple of the men are the best thing I've seen so far! I'm even wondering if one couldn't wind up winning the TV show!"
Looks like anyone could audition and win. I Wonder if Simon Cowell has the time. Or Paula Abdul. Here's how to audition. There's also an open casting call this Friday, the 13th, on the supposedly haunted Queen Mary in Long Beach, California.
Read More