Alpha the Robot Meets Zorine, Queen of the Nudists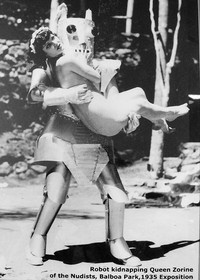 Humans love robots, and robots love humans… or at least love them as much as they can. One need look no further than the teledildonics craze to see how — as technology advances — humanity's desire to make love to the machine merely increases.
Of course, it's not a new phenomenon, really. All the 50's and 60's robot movies that featured a kicking damsel carried in the arms of a lumbering, inhuman robot palpitated with a lurid, robo-sexual edge. It even goes back as far as the 1930's, when one of the first "robots" (really just a guy in a robot costume) spent the day frolicking at the San Diego Exposition with Zorine, Queen of the Nudists.
Over at my other blog, ectoplasmosis, I just wrote up the remarkable love story of Alpha the Robot and Queen Zorine, and I'm pointing it out here because I think sci-fi fans will get a kick out of it. If I may speak so boldly, it contains what I think is the best photograph ever taken: Alpha the Robot, smiling, with his mechanical arms wrapped around the waists of a flock of buxom nudists.
The 1930's was a good time to be a robot.
Alpha the Robot Meets Zorine, Queen of the Nudists [ectoplasmosis]
Read More