1408 and the Room to Avoid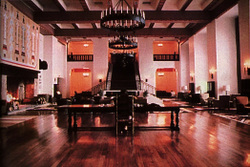 "You're scared of room 237, aintcha Mr. Halloran?" – Danny in The Shining
Certain recent posts about certain recent movies have got me thinking about certain rooms. In particular, that most important kind of room in the world of horror movies: the Room to Stay Out of.
Often, the RSO is in a hotel and has a number on the door (217, 237, 1408). In Hill House, meanwhile, it was the Nursery. Before hotels and family mansions became popular, you could usually find the RSO in a castle (as in the fairy tale of Bluebeard). And before there were castles, there were probably (as The Descent would suggest) parts of caves that everyone knew to stay out of.
Whatever kind of physical structure the RSO is located in, its true place of origin is psychological. The real Room to Stay Out of is that part of our mind that holds the things we know… but don't want to know.
That's why, when someone – usually the hero or heroine – inevitably DOES go into the room they're supposed to stay out of, the action tends to coincide with their learning something about themselves or others. Something they didn't want to know… but suspected all along.
Any Freudians out there? Just in case there are, I should probably throw in that for them, the real RSO is the parental bedroom. Too simplistic? Probably. But then again, there are a lot of shots of Danny in The Shining that have a certain kind of what-are-Mommy-and-Daddy-doing? primordiality to them. Talk about something we didn't want to know!
Read More