Werewolf Alert! Animals Begins Shooting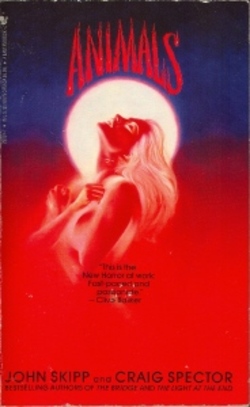 I'm a big fan of Naveen Andrews from "Lost." So when I saw that he's part of the cast of Animals, I got excited. Also in the T&C Pictures cast are Mark Blucas, Nicki Aycox, Eva Amurri and Andy Comeau. Best selling horror writer Craig Spector co-wrote the landmark frightfest with John Skipp back in the day, specifically, 1993.
Says Variety, the "story centers on a blue-collar man in a dying factory town whose life is jolted after becoming involved in a romantic triangle amid a spate of uncontrolled violence." Oh, come on, there's a lot more than that.
Variety's not giving a great book enough credit. Want to know what I mean?
Just check out the first few lines of the book from a free first chapter, courtesy of Spector's Web site:
"There was something large and wet and dead in the middle of the road.
"'Damn,' Syd muttered, easing up on the gas, slowing rapidly to a 35 mph crawl. He just thanked God he had the road to himself, no hellbent crystal meth-crazed eighteen-wheelers on his tail. There wasn't much reaction time, coming around the bend at highway speed. Most animals learned the hard way, and this one had been no exception."
The Web site also describes "Animals," saying,
"Syd was just another lonely working class guy singing the dying steel-town blues. Then he met Nora. She's sensual. Amoral. Erotic. Eternal. And she's luring Syd across the line that few can cross… and even fewer survive: the line that separates man from the beast within. Animals. There's a little bit of them in all of us. "
Amoral, erotic werewolves? Sure makes me want to read more…and see the movie.
Read More