Transformers Cast Interview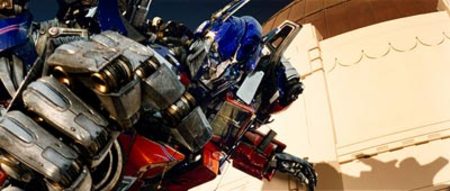 Yahoo Movies has posted an excellent video trailer of Transformers up on their site, certain to whet the taste buds of any sci-fi action fan looking to wash down a summer blockbuster featuring gigantic alien robots duking it out in major metropolises with a tub full of synthetic popcorn butter.
It's ostensibly an interview with the cast, so it features a lot of sound bites of Megan Fox, John Turturro and Shia LaBoeuf explaining how the thespian requirements expected of them were almost entirely limited to gesticulating frantically at a blue screen.
But the new footage of the robot battles is just top-notch. I've been skeptical of the updated take on the Autobots and Decepticons that Michael Bay is taking with this film, but the brief snatches of robot warfare in an urban setting, as Decepticons throw Autobots through skyscrapers, have me applying tourniquets my nethers to stop their gushing. Godzilla's all well and good, but it's certainly taken long enough for film makers to make a movie in which giant robots battle each other that isn't accomplished by small Japanese men in rubber costumes prancing around in a cardboard cityscape.
Transformers Casr Interview [Yahoo! Movies]
Read More