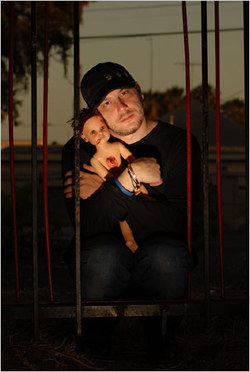 Since this image is from the New York Times, we should make you aware of this crazy article in that self same Paper of Record: Captivity Party!
The summary for the slowclickers is this: Captivity producer Courtney Solomon (pictured. thanks, NYT) is holding a "torture bash" to celebrate the release of the movie, and it's partially hosted by the Suicide Girls. Wild! Unglaublich!
We've been talking about Captivity for a few months now with the original focus being on the wild ad campaign that had the sensitive drivers on the Sinister Coast spraying latte foam all over their kid-leather steering-wheel covers.
Remember, there was that goofy battle with the rating's board "punishing" the film and delaying its release?
Then we (and everyone else) talked about
the Rise of Gorn, and how some were saying Captivity seemed like the next plastic bead in the Necklace of Misogyny and others thought it was a gender-blind power struggle.
Can you follow that, because I'm struggling with it (and I'm writing it)?
Heck, all you need to know is: Torture Party. And, while I think those Suicide Girls are succubi who prey on shut-ins with dial up connections, they probably throw a heckuva bash. If we could score tix, we'd be there. The article has all kinds of details (cage matches, win-a-date), so if you haven't read it yet, do the old upscroll and click away.
Read More