The Shatner Show: Artists Paint William Shatner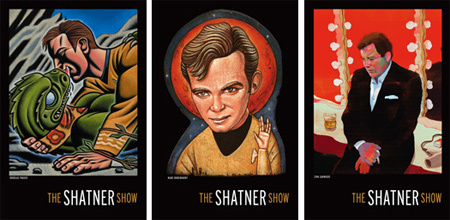 Yesterday, we posted a link to the Bad Spock Drawings site, a blog devoted to worshipful art of Leonard Nimoy's most famous role, especially when executed with a mindful of psychedelics and a complete disregard for classic aesthetics.
Yet Spock isn't the only muse aboard the U.S.S. Enterprise: William Shatner has also inspired an entire constabulary of artists to attempt to immortalize his pink, jowly face in oils, whether that face is morosely staring at the dressing room floor before a karaoke performance or pressed homoerotically against the passionate lips of a Star Trek space gladiator.
Better yet, the Shat himself seems to approve:
Every artist has their muse. Leonardo was inspired by the ceiling in the great chapel. Michealangelo found his art in the Italian marble. Who am I to stand in the way of all these fine artists and artisans who want to use my lumpy, aging face for inspiration? Some creatores love a great sunset; some have in mind my bloodshot eyes.
So inspired, over 40 artists have prepared art for The Shatner Show, an art exhibition at the Uppercase Gallery in Calgary. There's even an upcoming book devoted to the exhibition, which is on sale online. The perfect coffee table book for the eccentric, post-modern Star Trek enthusiast!
The Shatner Show [Official Site]
Read More