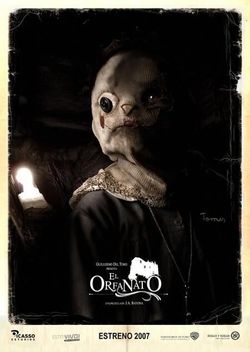 We can't leave well enough alone, always have to be one step ahead. Not content to talk about Daywatch (which opens today) or Hostel Part II (which opens next Friday), we're leaping forward to Autumn (again) to give an advance peek at El Orfanato (The Orphanage).
Fun Fact: The calendars here in the AMC horror department are permanently turned to October.
Produced by Guillermo Del Toro (Hellboy, Pan's Labyrinth), it looks like it's going to hit all the right buttons. Spooky old house? Check! Creepy dolls? Check! Kids who talk to things adults can't see? Check!
Here's the trailer: El Orfanato!
Remember that conversation we had re: foreign films and silent trailers? Enjoy it. If you feel like hearing a weird tale of the video store, take the leap.
The local video place has kept in business in a world of Netflix queues (and excellent cable programming!) by keeping itself stocked with crazy, wild horror flicks and exploitation flicks. The owner also seems to know everything about every movie. Fun! Old school!
I was in there looking for Bava's Shock and flipping through the rest of the Italian horror section when a family came in arguing and asking for: Pan's "Leeebeeeth". The owner was like, "I not have yet" and the angry daughter was like, "You have to have it. It's called Pan's Leeebeeeth."
I couldn't figure out what they had been fighting about, but it was the most delightful mispronounciation ever. I took so much pleasure in it, I just had to tell you. Maybe it makes me a bad person.
Read More