The Magazine of Fantasy and Science-Fiction Experiments With Online Publishing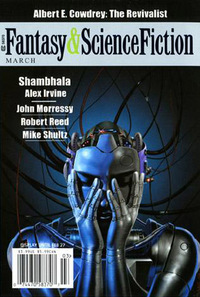 The Magazine of Fantasy and Science-Fiction (which won the 2006 Locus Award for best sci-fi magazine) is experimenting with online publishing. To tie in with a story appearing in the August 2007 issue, Editor Gordon van Gelder has published its predecessor, "A Wizard of the Old School" by Chris Willrich, for free on the website for one month only. But while it's fantastic that Fantasy and Science Fiction is willing to experiment with online publishing, I think the way they are going about it is decidedly old media.
The problem with F&SF's approach is that its just too modest. While I can certainly appreciate that F&SF wants to protect its assets, releasing one story for a limited period of time is a move that seems decidedly unsavvy considering the current and future potential of web publishing.
That's not surprising: a cursory glance at F&SF's website shows that they are still stuck in the Internet of 1997. But with print circulation numbers going down every year, now is the time to seriously look at the business potential of the web. Many publications are using their websites as complementary presences to their printed publications. Through advertisement and subscription models, they know there's money to be made on the web. But F&SF's approach seems to eschew that for the tactic of upping print sales without attempting to seriously build up its web presence.
Yet F&SF is well-posed to be a great site for online fantasy and science-fiction. They have an extensive archive featuring some of the genre's greatest writers. Why not plop all of that online and surround it with ads? Why not encourage web-only submissions? In short, why not get with the times? It is remarkable how quaint and cautious F&SF is being about their new endeavor: it is a great idea, but needs to be more radically introduced. After all, shouldn't we expect a magazine that largely dedicates itself to a feverish enthusiasm for the future to embrace the future of publishing?
Come on, guys. There's money to made and new readers to be had. All you need to do is apply your techno-utopianism to the present.
The Thief With Two Deaths [F&SF Official Site]
Read More