Stop The Presses: The Splat Pack Speaks!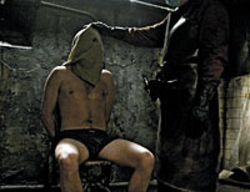 Today, Time Out London tries to put the whole Splat Pack phenom into perspective, and they do a more than decent job of it. Says the mysteriously un-bylined story of directors Roth, Zombie, Wong and Aja, "They've seriously upped the gore quotient of late, pushing R ratings to their viscous limits. Their relatively low-budget movies have earned millions, infiltrating popular culture from the suburban mallplex to 'The Sopranos'. The films have also made many social critics nervous, particularly in regards to their almost loving attention to the details of pain. Detractors call it torture porn."
Rob Zombie hates the Splat Pack/torture porn label: "It kind of devalues us: 'Oh, those guys, whatever,' " says Zombie, calling from the final editing sessions of his risky remake of "Halloween". Indeed, Zombie would rather frame his "The Devil's Rejects" as more a "modern-day Western, like 'Bonnie and Clyde'" than horror at all. Still, the visual integrity of his 2004 road movie, which looks like a grungy lost gem from the deepest, darkest '70s, makes it a highlight of the series—and a sign of the director's sober approach to misfortune, a hallmark of postsnark horror. "If you're going to show horrible events, let them be horrible," Zombie says."
What's really interesting is what Eli Roth of "Hostel" fame has to say.
Says the candid director, "'Hostel' is very much a reflection of my disgust with the Iraq War and the Al Qaeda videos: God, what if I'm abroad and someone's going to chop my head off? That's something that genuinely terrifies me. But also terrifying is the attitude of [my movie's] American tourists, throwing a bunch of money around, thinking they can take over another country. And they're the ones who ultimately get bought and sold. It's not just about people wanting to kill us, but capitalism gone awry and American imperialism."
So "Hostel" is really about why the world now hates Americans. I think Roth's stretching things a bit. The feeling the world has toward us is not as much about rampant capitalism as it is about the horrible mistakes of the Bush administration. Not that many hated us capitalists in the USA with such vitriol before the war in Iraq. And those horrible mistakes will be with us for decades to come. Maybe that's what Roth really means. But the way he's quoted, it's not quite clear.
Read More