Slave Leia Not Included: Own Your Own Jabba the Hutt Sail Barge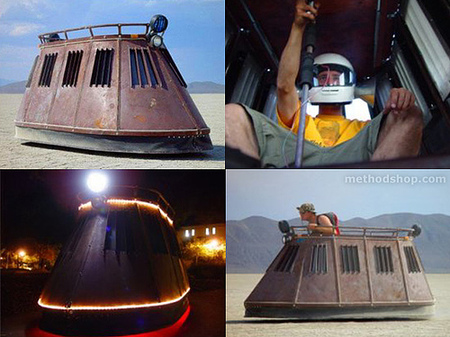 For the man who has everything except a slimy extraterrestrial gastropod's mobile pleasure palace, the JL421 Badonkadonk Landcruiser is a custom made tank modeled after Jabba the Hutt's sail barge from Return of the Jedi.
The "Donk", as it's affectionately known, was first unveiled at the 2002 Burning Man festival and is now the official mascot vehicle for the Stanford University Marching Band. Only in miniature is it a recreation of the original Jabba barge: it can supposedly hold a maximum of five individuals crammed like clowns into the tiny interior of its rusty belly.
But no matter: emptied of Stanford marching band froshes, it's the perfect size for a Star Wars enthusiast to drive up to make-out point with a forgiving girlfriend. Furthermore, it's iPod compatible, thanks to a built-in sound jack and a 400 watt premium sound system. Cue up your "Music to Make Love To Slave Leia By" playlist, pull the gold bikini out of the glove compartment and raise your eyebrow at your date insinuatingly: you now have the ultimate vehicle for Star Wars themed seduction.
Of course, such a vehicle won't come cheap: the Donk is currently selliing on Amazon for a staggering $19,995.00.
Badonkadonk Land Cruiser [MethodShop]
Read More