Shooting the Hostel II Premiere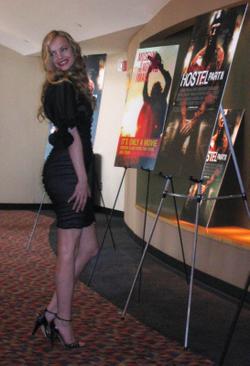 The air was crisp and cool as our happy band of reviewers wended our wily way Times Squareward to the grand preview screening of Hostel Part II. There, in a scene stolen full-form from the Golden Age of Hollywood we were dazzled by the lightning bursts of a hundred exclusive cameras as they turned clear-skied day into an electrical storm of red carpet glamor.
All of the stars were there, the rugged and villainous Roger Bart, the knowing arctic-eyed Heather Matarazzo and, wrought from purest heavenstuff, Bijou Phillips. For sudden dizzying moments it was unclear whether the flashbulbs illuminated them or they the flashbulbs.
The director himself, French-cuffed and silver-tongued, glibly glided the gauntlet of gadabouts not needing to pronounce his name, for it was clear to all he was Eli Roth. Printable quotes dripped from his practiced, smiling lips and he gave a thousand web cam winks to the grateful absorbent throng.
We totally got some exclusive video time with them, (courtesy of Lionsgate!), and I'll tell you the whole experience and show you the video as soon as tomorrow morning. Oh, we amused ourselves by calling it the Kaleidescope Karpet on account of it not being red and being more, well, patterned.
This was all part of the Museum of the Moving Images's horror series, "It's Only a Movie", and we're going to be covering the whole thing all Summer long.
Read More