Shatner Fighting For Cameo In Star Trek XI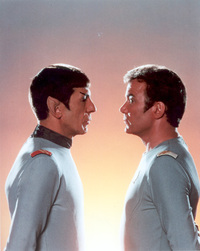 </a
The raspberry flappy-jowled face of William Shatner has become synonymous over the course of the last 40 years with Captain James T. Kirk of Star Trek's USS Enterprise. Neither age, nor booze, nor terrible 60's lounge covers nor cholesterol level can change that.
But current rumor is that when Star Trek XI runs around, The Shat will be getting the shaft when it comes to cameos, even though his co-star Leonard Nimoy will be fit in.
Apparently, J.J. Abrams' upcoming Star Trek prequel, reportedly dealing with the first voyage of the Enterprise under the command of Kurk, will manage to wedge a Nimoy cameo into the film. There's no word on what form that might take: an opening prologue of Spock reminiscences, maybe. But Shatner hasn't managed to get himself the same treatment. His reaction? A one-man campaign to convince Paramount to include him.
It's pretty funny to remember the days when Nimoy and Shatner were desperate to disassociate themselves from their iconic roles. Thirty years later, they realize there's huge money to be made in these things (as well as the adoration of fans) and they are positively chomping at the bit not to be forgotten.
Spock Minus Kirk in Trek XI [Slice of Sci-Fi]
Read More