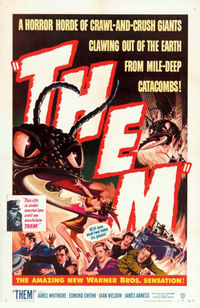 Today is Sci-Fi Friday on AMC, with a very definite insect theme running through our 24 hours of sci-fi programming.
Since it's summer, this is pretty much the perfect opportunity to relive one of those Friday night movie marathons of childhood. Stay up until 4am, your belly full of half-digested M&M paste, your library of Famous Monsters of Filmland magazines spread higgledy-piggledy around you, watching rubber movie monsters crawl across the screen until you pass out! What could be better?
You can find the listings of what we're showing here. We're showing some pretty good stuff, and I'm not just saying that because I'm a lackey for The Man. My personal favorites would probably be:
• Earth vs. The Spider: The battle of the century, no doubt. A humongous planetoid, hurtling through the void of space and capable of destroying entire civilizations with its tremblings alone, versus a fingernail sized arachnid 1/1,000,000,000,000th of its size. Which will be triumphant?
• Them! Flipping that whole Earth/insect size ratio upside down, gigantic ants squeeze the planet dry between their gigantic radioactive mandibles. Okay, Earth, who's laughing now?
• The Fly: Starring no less a B-movie great than Vincent Price, the twist ending is still utterly chilling. Of course, Price and his fellow actors didn't think so: apparently they could scarcely film it, take after take being ruined by their fits of laughter. It was only when they studiously avoided making eye contact with one another that they managed to film it with the appropriate gravitas.
• Voyage to the Bottom of the Sea: I admittedly haven't seen this, but Frankie Avalon is just so dreamy.
• Army of Darkness: Not really science-fiction, since it is primarily about murderous zombies, the Necronomicon Ex Mortis and chainsaw-wielding idiots from the future, but Army of Darkness is still a fond throwback to the Ray Harryhausen mythological matinees of the 60's and 70's like Jason and the Argonauts and Clash of the Titans. It's a classic. I still prefer the original ending, though.
There's a lot more, so make sure to check out our listings for times and movies. Also, if you've come to visit SciFi scanner through the spots airing during our programming today, welcome, stick around and comment. We're certainly looking for a few good fanatics.
Read More