Rocket Belts Now On Sale, Only $250,000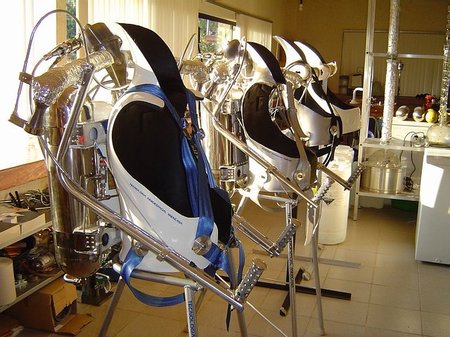 The battle cry of the retrofuturist — the curious animal who is filled with ennui when he compares the 'now' of today with the feverishly imagined 'future' of yesteryear — is "Where's my jetpack?" Countless Popular Mechanics articles of the 50's and 60's swore that we'd have one by the 21st century, yet our scientists have long proven unable to surmount rather basic problems such as steering. And this really honks some of us off.
If I, as a retrofuturist, were to be reasonable, which is not my domain, I'd admit that I don't really want a jetpack. Strapping a few hundred pounds of combustible rocket fuel to my back does not sound foolproof (and I am most certainly a fool), nor does the thought of having my buttocks and calves melted by the thousand degree jets of flame necessary to get me airborne.
Luckily, I'm not reasonable, so I'm delighted to see that science has finally perfected jetpack technology.Tecnologia Aeroespecial Mexicana is now selling the world's only "complete turn-key package of a flying rocket belt, custom-made to the pilot's weight and body size." The rocket belts are made in Mexico (so you know it's a quality consumer product) and the price is a reasonable $250,000, so AMC knows what that line item expense means on my next invoice.
Rocket Belts [Tecaeromex.com]
Read More