Robot Chicken's Star Wars Special: "What The &*$% Is An Aluminum Falcon?"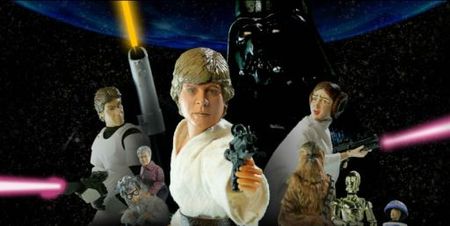 To celebrate its 30th anniversary, Adult Swim's Robot Chicken has devoted an entire episode to the affectionate stop-motion parody of the Star Wars films. And while Robot Chicken isn't the only cartoon this month to dedicate an entire episode to Star Wars (Family Guy has also recently devoted an entire episode to parodying the original film), it's certainly seems a lot more clever… not to mention less obsessed with Han Solo's flatulence.
For me, part of the charm is the animation style. Robot Chicken's crude stop-motion puppets can be hit or miss, but in this case, it suits the subject matter perfectly. It's like the boxes full of 80's Star Wars toys as a kid sprang to life to engage in irreverent, foul-mouthed adventures.
There's some low-points: a couple of the segments try to test the conventional wisdom that any joke is funny if the build-up is excruciating enough, and somehow, both the Family Guy and Robot Chicken Star Wars special managed to incorporate the exact same Tie Fighter joke. But I would eat Admiral Ackbar cereal.
Since this is just the sort of thing that tends to get spread on online video sites, Adult Swim has opted to release the full thing online (with built in advertisements). Unfortunately, it didn't work for me, but luckily at least one mirror exists.
Robot Chicken Star Wars Special [Adult Swim]
Read More