R2D2 Meets City Lights: Pixar's WALL-E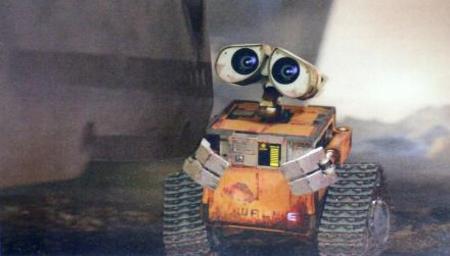 The latest issue of Time Magazine included a substantial article on Pixar, with a list of the movies currently in production. Of interest to sci-fi fans were some of the details spilled about their follow-up to Ratatouille: WALL-E, Pixar's self-described metallic love story, an "R2-D2 meets City Lights."
So far, there's scant details of the WALL-E's plot. Pixar's plot description is terse: "The year is 2700. WALL• E, a robot, spends every day doing what he was made for. But soon, he will discover what he was meant for." Which is apparently robot love.
Although it's not due out until June 27, 2008, a press screening of Pixar's upcoming Ratatouille contained a short teaser of WALL-E. CinemaBlend's description of the trailer is heart-warming:
The camera pans to show the saddest, tiny robot you've ever seen collecting garbage on a flat, empty planet underneath a huge, starry sky. The cute little robot picks up garbage, compresses it, and deposits it in cubes as a narrator talks about how he's faithfully done his job for 700 years, but never found his true purpose… until now. The robot looks up at the stars, and the title "Wall-E" flashes across the screen, and is then said by a heavily synthesized, sort of squeaky robotic voice which sounds like it's not used to speaking. This is probably the little robot Wall-E.
One interesting detail is that the robots are being voiced electronically by Ben Burtt, the sound designer behind Star Wars. As far as I know, this is the first time a Disney animated film is going to eschew human voice actors. Not only that, but it sounds like Walt Disney Pictures is banking a lot on WALL-E's success: there's already fledgling rumors that Disneyland's Tomorrowland will become WALL-E World.
Pixar: A Look at The Future and Beyond [Slashfilm]
Read More