Planet of the Apes From Around The World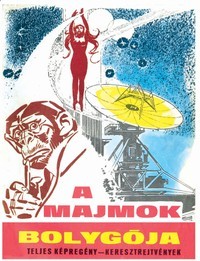 Before Tim Burton ruined it for everyone by casting Marky Mark in the Charlton Heston role and, if I understand the ending correctly, making Abraham Lincoln an evil gorilla, the Planet of the Apes franchise enjoyed such international reknown that Hungary — desperate for a hot Pierre Boulle infusion — translated the first novel in a wonderfully strange comic adaptation.
The Hunter's Planet of the Apes archive has managed to dig up this strange find somewhere on eBay and have posted a full PDF of the comic, along with a translation. Never trust monkeys.
By the way, if you're into Planet of the Apes, the full archive is filled with neat stuff like this, including a lot of PDFs of early Gold Key comic adapations, some additional foreign adaptations and even some Planet of the Apes records.
Hunter's Planet of the Apes Archive [Goatley.com]
Read More