Oh No: Blair Witch Project Prequel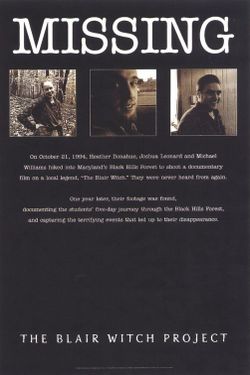 It's scary, and not in a good way. Over at Cinematical, there's talk today about a Blair Witch Project prequel, which Lion's Gate might produce. Sure, the original flick was one great horror fest that got under my skin like few others have done since. It made a ton of money, creating one of biggest indie cash cows of all time – almost $249 million, according to BoxOfficeMojo.
Then, there was the Book of Shadows sequel, one of the most disappointing, most derivative horror films foisted upon the movie-going public in the last two decades. It was so bad, it screwed up the whole idea of a Blair Witch franchise. And that's too bad.
But you can't go home again, especially in this case. The Blair Witch Project was one of the first instances of Big Web Buzz. The mysterious Web site was as integral to making a success of the movie as was the movie itself. Yet times have changed and moviegoers have gotten savvier. Heck, if a great Web site made people flock to movies today, Grindhouse would have made a billion dollars.

Plus,
The Blair Witch Project was an idea that only indie folks without money
could have invented. There were no special effects to speak of and
there was no spectacular acting to speak of, either. The Blair Witch
Project worked because its cheesy, badly lit video enhanced the great,
witchy idea of horror. In these days of special effects and formulaic
plots, no movie studio would allow another low budget Blair Witch-type
film to be made.
So
to director Daniel Myrick, take heed: forget the Blair Witch. Think of
something new that will scare my socks off. You've got it in you. Find
a hundred grand and DIY.
Read More