News Roundup: It's All Greek to Wes Craven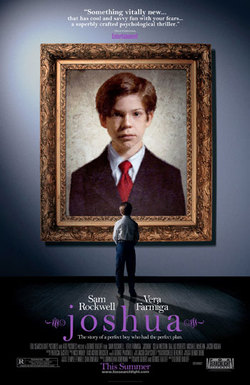 The Wes Craven-produced remake of Last House on the Left has announced a director and it's… some Greek guy we've never heard of before! Which is not necessarily bad news, because if we don't know what his previous work is like, we don't have any evidence to fear he'll make a mess of the movie.
Rouge Pictures has picked up the screen rights to Infested, Scott Sigler's new novel, about parasites that turn people into crazed murderers.
Promoting Hostel Part II (on which the advance word is good), Eli Roth is announcing that there won't be a Hostel Part III. We'll see if that holds after the opening weekend of Part II.
Fox Searchlight has premiered the winning poster for the online campaign of Joshua and it's creepy. Ditto the trailer.
Another trailer premiere for The Orphanage, produced by Guillermo Del Toro. After Pan's Labyrinth, Del Toro could puts his name on a Police Academy sequel and we'd still see it.
The oh-so-lovely Zooey Deschanel will be co-starring with Mark Walhberg in M. Night Shamalyan's killer plant movie The Happening. Now we have to see it!
Sometimes a series of new stills is enough to get you excited about an upcoming movie. Case in point: I Sell The Dead, starring Lost's Dominic Monaghan and indie filmmaker Larry Fessenden; Midnight Meat Train, an adaptation of the Clive Barker story starring Vinnie Jones; and Doomsday, the new film from Neil Marshall, director of The Descent. We're hoping that one kicks.
Read More