News Roundup: Horror Spy Kid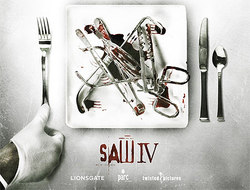 It's the Saw IV poster art! So clean and yet so messy.
Speaking of Saw, sequels director Darren Lyn Bousman has cast all grown-up Spy Kids star Alex Vega in his upcoming horror rock opera Repo! The Genetic Opera. If it's even half as good as Phantom of the Paradise, we'll love it.
Elizabeth Banks will be playing the wicked stepmother in Dreamwork's Tale Of Two Sisters remake. That's actually very good casting, if you ask us.
And the loveliest of them all, Creepers star Jennifer Connelly is teaming with Clive Barker, Guillermo Del Toro and stop-motion geniuses the Chiodo Brothers for Born, about a stop-motion artist who finds his creations coming to life. Connelly's talented husband, Paul Bettnay, plays the stop-motion artist.
Chappell's Show regular Charlie Murphy is writing and starring in Frankenhood, where he re-animates dead corpses for his basketball team. Can't he just call on Blackenstein?
Blade/Demonic Toys screenwriter David S. Goyer will be writing and directing a modern day remake/sequel (or "requel") of The Invisible Man for Universal.
And speaking of classics, someone thinks it will be a good idea to let the Saw producers remake several Val Lewton films.
Finally, we take this moment to remember horror journalist and great guy Daniel Robert Epstein, who passed away this week. He will be missed.
Read More