News Round-Up: The Word On Zombie's Halloween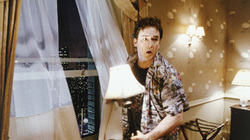 A test screening of Rob Zombie's Halloween happened in NYC this week (just blocks away from the AMC offices, we might add) and Ain't It Cool News had some spies there. And here. And then over there. And they liked it!
1408 opens today and it's getting some pretty good reviews, including one from the author of the original story. Then again, this guy didn't like The Shining.
What is Cloverfield? It is a giant monster? And what does J.J. Abrhams have to do with it? We're curious ourselves…
The Host, the excellent South Korean monster movie, is getting a sequel, but without its original writer/director Boon Joon-ho. So now the Koreans are making cash-in sequels to their great movies too.
Fans of classic horror on DVD will have their hands full (and their bank accounts emptied) by some brand new double feature DVDs from 20th Century Fox and MGM. Look for classics like Witchfinder General, Tales From The Crypt (the 1972 movie), and Yongary, Monster From The Deep to finally hit disc in September. Yowza! Speaking of horror DVDs, have you entered our contest yet? 🙂
Peter Medak, director of the classic ghost story The Changeling, has been hired to direct a new thriller for Lionsgate called The Addicted. Medak's record is a bit spotty (he directed the excellent gangster film The Krays and, uh, Species II), but when he's good, he's very good, so we've got our fingers crossed.
And finally, the title of the week goes to Buddy Holly Vs. The Living Dead. We're so there.
Read More