Make Your Reservations to Dine in Leatherface's Lair Now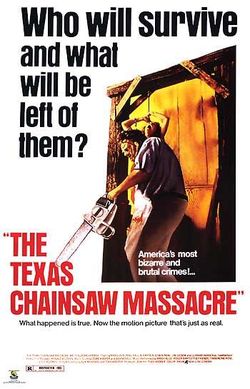 Planning a trip this summer? Maybe you want to visit the filming locations of some of your favorite horror films? You do? Well, have you considered as your destination the vacation mecca known as Central Texas?
I'm actually a big fan of Texas (Austin, especially) and travel there at least twice a year to see friends and just hang out. What's especially great about it is you can see the real-life locations for Texas' great contribution to horror, The Texas Chainsaw Massacre.
With the exception of the third film in the series, all of the Texas Chainsaw films (including the remakes) were shot in Texas and the enterprising folks at Texas Chainsaw Tours actually offer tours to visit many of these beautiful locations.
The piece de resistance is the house from the original film, a lovely Victorian home in Kingston that's now been converted into a restaurant.
I've actually eaten there and it's a weird thing to enjoy fine
dining in the same room that was the movie setting for a place filled with chicken feathers and
human bones. But what's even stranger is that when you go to the men's room you walk through the same corridor
that once housed the notorious steel gate that Leatherface closed with
such ferocity.
And the food is very good, although they don't serve all that much
BBQ, but that's OK (I had the salmon). The management doesn't play up
the connection to the movie that much (would you?), but they don't mind your taking
pictures.
Texas: Come for the chainsaw massacre movies, stay for the food!
Read More