It's Alive (and playing this weekend)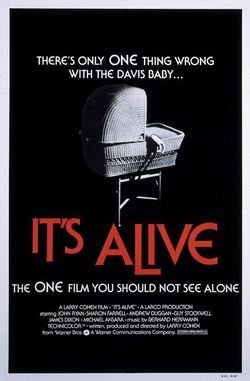 The super-well curated horror series at the Museum of the Moving Image rolls on this weekend with a pair of old-school beauts.
You got your Rabid, which is a totally underseen Cronenberg flick with an "infection" plot not unlike, oh, say, 28 Days/Weeks Later, but with more of a "flesh vampire" angle. If you can't make it out to Queens, put it in your Netflix queue. Long live the new flesh!
Oh, and it stars adult movie star Marilyn Chambers, so your curiosity dial should be set to eleven.
Then super-cult extra-classic It's Alive, a creepy baby-mare for the breederati. Spoiler alert, when the doctor slaps the just-born kid, all heck breaks loose. Hilarious, early Rick Baker special effects. What's not to like?
Any movie with a musical track entitled, "The Milkman Goeth" gets five hoofprints from us. Writer/Director Larry Cohen will be there in person to talk about it, and we hope to land an exclusive interview for you.
Fingers crossed, goatlings.
Read More