Interior Design from Space: 1999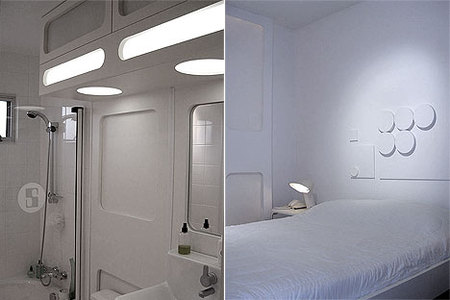 In what must be one of the most bizarre sci-fi home decoration projects ever, Catherine Pujold has redesigned her entire apartment to reflect the ascetic retrofuturistic temperament of the TV series Space: 1999.
What's interesting about the photographs of the apartment is they actually look pretty good. Sure, it's too white (if this were my home, I'd be afraid to sneeze, and force myself to sleep outside when I had bouts of dysentery) but who would have thought that Space: 1999's retrofuturistic vision of the future as being entirely devoid of color and as blank and monotonous as the surface of the moon would actually look half-decent?
For those who don't remember, Space: 1999 was a series starring Martin Landau with a special effects director who has worked both on The Thunderbirds and 2001: A Space Odyssey (an implausible resume if I ever heard one). The series was about the inhabitants of a Moon base after the Moon is knocked out of orbit by a nuclear explosion. And you thought Armageddon started the trend of bad science in science fiction!
My Moonbase Alpha [Official Site]
Read More