Inside The World of Blade Runner 25 Years Later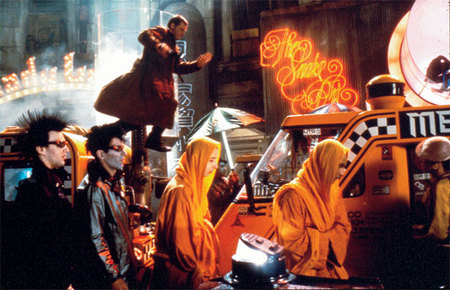 To celebrate the 25th anniversary of Ridley Scott's Blade Runner, special-effects maestro Adam Savage — who worked on Star Wars Episodes I and II, as well as the Matrix films, AI and Terminator 3 — has dashed off a fantastic essay for Popular Mechanics, explaining the timelessness of Blade Runner's neo-noir sci-fi aesthetic.
One of the points Adam Savage makes is that from the first second of Blade Runner, you are in the world. You don't need to have it explained to you. The world makes intuitive sense as an extrapolation of our real world. In the world of Blade Runner, globalization and a cheap source of labor (the replicants) with no legal rights have resulted in rampant poverty and crime. The world of Blade Runner is like that of a technologically sophisticated third world, where the slums tower to the skies and only advertisements big enough to command skyscrapers can make an impact anymore.
The article, though short, is a fantastic look inside the minds who envisioned Blade Runner's world, as well as an invaluable technical resource for people who want to know how Ridley Scott managed to pull off special effects that haven't been matched to this day.
Blade Runner at 25: Why the Sci-Fi F/X Are Still Unsurpassed [Popular Mechanics]
Read More