Hostel Part II: The Red Carpet Experience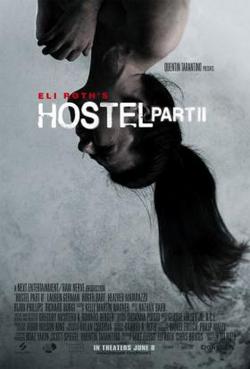 That buzzing you hear isn't from the proposed remake of The Swarm but from all the reviews and excitement surrounding Hostel Part II. The earliest word indicates it's living up to the hype.
In addition to fulfilling its primary function, to frighten and entertain, I reckon it's getting a lot of additional attention from its themes of travel-fear and torture.
We've hit the big time, and we'll be screening the movie tomorrow as well as interviewing director Eli Roth and his constellation of stars (Bijou Phillips among them), and right now the question in my mind is which direction to take in the interview. Do I ask about movie magic or the themes behind the movie? What's most interesting and the least repetitive?
There's going to be a red carpet in Times Square and luminaries from the Museum of the Moving Image, and it should be an exciting time, certainly more than the usual "soft opening" horror movies receive.
Watch this space for the aftermath, and if you have an idea of which direction you think the interview should go, drop me a comment. I'm planning on wearing a black sport coat with dark red piping and my Han Solo pants.
Read More