Hostel Part II: Gory and Available for Download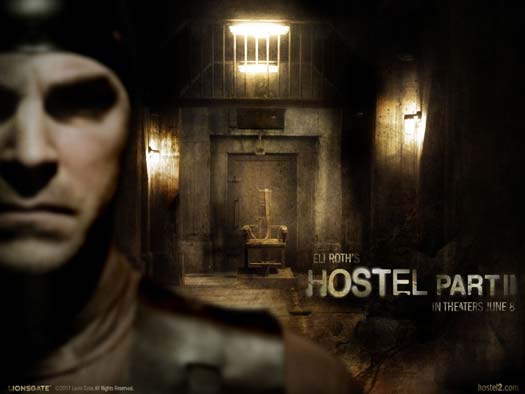 Hostel Part II — or "Quentin Tarantino presents Eli Roth's Hostel Part II"
as it's listed on the ads — is the most anticipated movie of the
summer for hardcore gore fanatics. Of the first Hostel, fans thought it delivered, while many in the mainstream media
saw it as "torture porn." Both schools of opinion will have more to
talk about because the sequel (which picks up right after Hostel
ended) is said to outdo the original in both story and, uh, execution, as well as in elaborate gore scenes.
Unfortunately for the film's producers, many
people may be seeing the film for free as high-quality bootlegs have become available for purchase and download. This is a troubling
development for the horror box office as Hostel II is coming at a time when ticket sales for the movies have started to fall (such recent sequels as The Hills
Have Eyes Part II and 28 Weeks Later will fall short of their
predecessors). Could the horror boom of the last
decade be over? At least the genre could use a hit and Hostel II should be the one to do it. Then again, I
thought that about Grindhouse.
Picking up where the first film memorably ended, the sequel finds three American women (Bijou Phillips, Heather Matarazzo and Lauren German) studying abroad who have been trapped in the hostel. You might think what follows is a rehash of the plot of the original film, but the early word is that Roth takes this one into new territory. I can't wait to see 70's Euro film goddess Edwie Fenech turn up in a supporting role, along with cameos by Cannibal Holocaust director Ruggerio Dedato and Luc Merenda.
Providing the word of mouth is indeed correct (and I've heard nothing but good things), Hostel II should provide thrills. But see it in a theater, because there's nothing like seeing a good horror movie with a crowd enjoying themselves just as much as you are.
Read More