Horror Fest + Horror Jones = Fear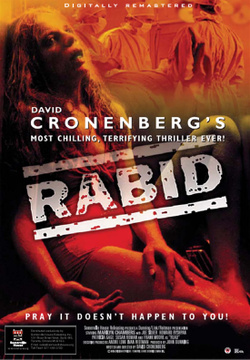 It surprised the hell of out me. I don't think of The New
York Times' reporters and editors as a bastion of horror film lovers. But in the venerable Sunday edition, the high
powered Charles McGrath 'fessed up to his horror film jones.
Yep. McGrath, the former editor of the revered Book Review,
sat at home with a ton of scary DVDs like "Feast." (They're hungry. You're dinner.) At the end, McGrath came up with something you probably
already know: "that far from being incompatible with fear, humor can enhance
and enrich it, and that at the low end of the budget especially, the best
horror movies are the ones that don't take themselves too seriously."
Then, there's the must-see horror series about which The Times
wrote about.
You just have to check out the upcoming scare-fest at New York's The Museum of
the Moving Image. (The gang here already checkout on the premiere of Hostel II and snagged an interview with Eli Roth at the confab.) Says Jason Zinoman, "The
museum will play its part beginning next Saturday when it presents a horror
fan's dream festival, It's Only a Movie: Horror Films From the 1970s and Today,
a selection of 33 features and shorts that will run for six weekends, through
July 22."
That's perfect timing. Lots of folks worldwide pay visits to The Apple during the summer
vacation months. What better way to
check out a horror film like Cronenberg's "Rabid" than in the cool confines of the Moving Image?
Wes Craven tells Zinoman about the how today's horror
films are inspired by yesterday's: "'The new films are very similar to those in
the 1970s in that they are merciless with the audience,' Mr. Craven said. 'I
think they are a cultural way of coming to terms with the horrible realities of
everyday life.'" I'm not a flack for the city, but come over to The Apple soon and get your pants scared right off your bottom.
Read More