Gore Burnout: Horror Movies Tanking?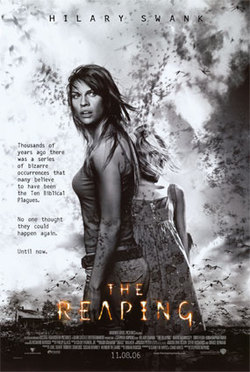 Are horror movies seeing a massive slump? A veritable market correction? That's what the Los Angeles Times
thinks. Says the Times, "Last year, the
studios released 23 horror movies. This year the tally will be 42, nearly
double, and too often the take at the box office has been anemic, leaving
studios and distributors with lots of red ink gushing through the bottom line."
The paper cites The Reaping, starring Oscar winner Hilary Swank, as an
example. Sources say it cost $65 million
to make. But it only pulled in $25
million in U.S. box office sales. That's just one
example. The graveyards are littered
with horror movies that tanked.
But Dimension's CEO Bob Weinstein tried valiantly to put
things into perspective.
"There became a glut of so many horror movies, and I
think the audience is oversaturated," says Dimension Co-Chairman Bob
Weinstein, who launched the horror film craze with the satiric slasher flick
"Scream." "Sometimes the industry has the habit of making the
same movies over and over again."
He's got that right. But horror movies don't take a huge amount of money to produce, at least
compared to blockbusters like "Spidey 3." Heck, indie filmmaker Larry Fessenden does it on the cheap and has come
up with some truly atmospheric scare-fests (like "Wendigo").

All the genre needs is a new twist, a new way to tell the
tale, says the Times in its insightful, three-page story. I bet there are tons of
tantalizing new tales out there. Someone's gotta
have the balls to make them, though.
Read More