Firefly Fans Screen Serenity Around The World For Charity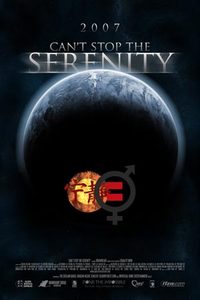 Serenity was the last chance for fans of Joss Whedon's Firefly to paddle shock the unfortunately still birthed corpse of one of the most promising science-fiction series to come out in years. A strong cinema success would have given the show some sort of shot at a come-back: unfortunately, while moderately successful, the film just didn't give the shot in the arm to the franchise that was needed.
Even so, Firefly fans (or Browncoats, as they like to call themselves) remain loyal to the franchise, even going so far as to try to leverage their collective fanaticism for good causes.
Their latest effort is the Can't Stop The Serenity even. In an effort to raise money to stop rape, female genital mutilation and spousal abuse, Can't Stop The Serenity has arranged showings of Serenity in over 40 US and International cities, with all proceeds going to Equality Now, an organization devoted to gender equality.
If you're a Serenity fan, go by the site and check out the dates and venues: the energy and enthusiasm of a theater full of Browncoats is infectious.
Can't Stop The Serenity [Official Site]
Read More