Fido's Andrew Curry: Zombie Lover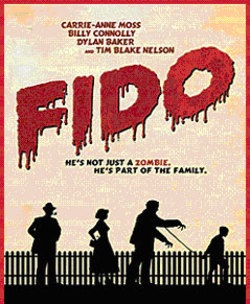 A zombie world, a real one? It can happen. Especially in director Andrew Currie's mind. Currie's upcoming "Fido" is a deadly humorous zombie flick in the vein of "Shaun of the Dead." Taking place during the 50s, when the Cold War had a full head of steam, the movie features a boy who befriends a member of the undead called Fido (played by Billy Connelly).
Over at First Showing, Alex Billington offers up a lengthy Q/A with Currie, who says, "(I)n 1994 I had two writing partners who we wanted to write a feature together and we all threw in different ideas. And one of my co-writers, Dennis Heaton, had this really cool story about a kid who fed his zombie raw flesh as a way of stopping him from craving human flesh. And it was just such a cool story idea that we decided to write from that and that's what we started with and we built the world of Fido from there."
There's a lot more that Heaton has to spew about Fido, including enumerating his favorite zombie movies.
Of his fave zombie offerings, Heaton explains that "Really, I guess, the biggest one would probably be Night of the Living Dead just simply because of the sort of movement and the history of them and how they need to be killed, all of that. I sort of used Romero's mythology of zombie-ism. I Walked with a Zombie, the Jacques Tourneur film, I thought was fantastic."
There's a lot more in this extensive interview, too: Currie's take on "28 Days Later," zombie movies that take the easy way out and don't feature a good story and an homage to "Day of the Dead." It's good, detailed stuff, all the way around.
Read More