Fantasia Schedule Finally Up!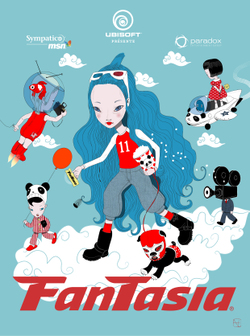 In case you haven't looked at a calender lately, July is just around the corner and for me that can only mean one thing: It's time to trek on up to Montreal for the Fantasia Film Festival! North America's premiere genre festival, Fantasia is now in its 11th year of presenting the finest in fantastic cinema from Asia and the rest of the world. This year's program shows that once again Fantasia isn't just planning to sit on its laurels.
Sidebars for 2007 include such edgy fare as Documentaries From The Edge (self-explanatory), Hell Is A City: The Cinema of Urban Apocalypse, and a tribute to French erotic horror master Jean Rollin, which includes the world premiere of his new film, La Nuit des Horloges.
But Fantasia is as much about the wonderful city of Montreal, making new friends and late-night visits to Brutopia and early morning eats at the Cine Cafe. Of course, great movies are the order of the day, and some of Fantasia 2007's highlights are featured after the jump.
Hatchet – The big winner at last year's Fantastic Fest in Austin, director Adam Green's 80s slasher homage stars none other than former Jason Kane Hodder and Freddy Krueger himself, Robert Englund. Said to be super violent (it was originally rated NC-17 by the ratings board), it's being shown with Green's latest, the dark comedy Spiral.
Flight of the Living Dead – Four words: Zombies on a plane. Said to be a lot of fun and one of this year's big festival finds.
The Ferryman – This year's other big New Zealand genre film (after Black Sheep) stars John Rhys-Davis as a mysterious sailor who has cheated death for years.
Trapped Ashes – A new anthology from directors Ken Russell, Monte Hellman, Sean Cunningham and Joe Dante finds a group of strangers relating stories of their ultimate horrors while trapped in an abandoned movie studio. Hellman's segment, the unexpectedly moving "Stanley's Girlfriend" is the highlight.
For the full list of films with show times and locations, click here. We'll be there providing daily highlights for at least one week, but if you can make it (and Montreal is a pretty easy drive from several east coast locations) do yourself a favor and get up there for a real good time.
Read More