Exteme Horror From 24 Frames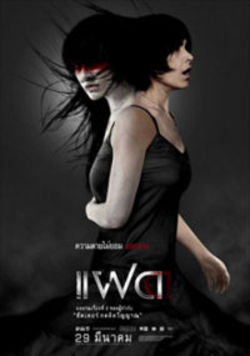 Bump, bump, bump in the night! Blood, ghosts, fear, trembling! Those are the words that come to mind when I think of the words 'extreme horror.' Hopefully, indie film distributor 24 frames was on the same page when they announced their new horror division.
Says a just-published press release, "Independent distributor 24 frames announced today that it acquired at Cannes all North American rights and remake rights to the Asian Horror Film 'Alone' for their 24 frames extreme label. This is the 2nd horror film from the directing duo Pisanthanakun and Wongpoom who made the smash hit 'Shutter,' now undergoing a Hollywood remake by Twentieth Century Fox and Vertigo Entertainment."
But, really, what does extreme horror mean to company president Ludo Cremers (sounds like such a great horror villain name, doesn't it)?
"The directors know the best thrillers and horror are built on common, identifiable themes such as sibling rivalry, romantic jealousy and family guilt," says 24 frames President Ludo Cremers. "The dark, psycho thriller elements recall the best of Hitchcock and DePalma."
Hitchcock? DePalma? Them's some serious names to throw around willy-nilly. But "Shutter" indeed garnered some very good awards and reviews. The Thai film, where creepy images appeared on photographs (serious fear, tension and horror ensue), scooped up the 2005 Golden Kinnaree Award for best film at the Bangkok International Film Festival.
"Alone" is one of those get-under-your-skin, creepy-twins horror offerings. Says Wiki of the plot, "Pim was born as a twin, conjoined at the stomach with her sister, Ploy. The twins had an operation to separate them, but one did not survive. Now living in
South Korea
, Pim receives a phone call from
Thailand
that her mother has had a stroke. Pim must return to
Thailand
and her childhood home, where memories of Ploy come back to haunt her and become frighteningly real." Ew. Could be a must-see.
Read More