Eli Roth Gets A Taste Of His Own Medicine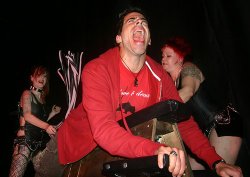 This one's for the haters: Eli Roth getting a taste of his own "torture" medicine at the Hostel Part II premiere in Austin, Texas. We'll be seeing the film on Wednesday and will let you know Thursday if he deserved this. Special thanks to Tim League for providing the photographic evidence of this event.
For more fun, check out the video after the jump!
I think he enjoyed this too much.
Read More