Crispin Glover: The Wizard of Gore?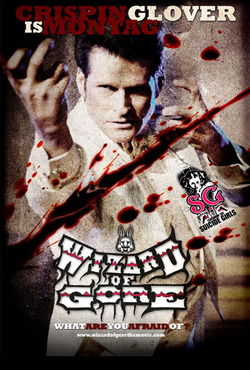 Most actors fear being typecast in the horror genre, but that doesn't deter Crispin Glover from taking roles. If anything, it distances him from wimp roles in Back To The Future and his odder personal moments, like when he tried to kick David Letterman in the face (Letterman, ever the gentleman, has invited him back several times since). His casting in the 2003 remake of Willard was more inspired than the film itself and whenever I see him pop up in an atypical mainstream part, I know that the money is probably going back into Glover's passion projects, such as the films What Is It? and It Is Fine, Everything Is Fine! And that's fine!
Here Glover takes the title role in the new remake of H.G. Lewis' Wizard of Gore, also starring my faves Bijou Philips and Jeffrey Combs. As expected, the film looks to be a slicker, gorier version of a once-crude fan favorite and, also to be expected, it looks like Glover is probably going to be the best thing in it. We'll know for sure when the film makes its world premiere at the Los Angeles Film Festival (a film festival in L.A.?) this weekend and then next month at the Fantasia Film Festival in Montreal, with more festival dates no doubt to be announced. Check out the official website and trailer and know why when it comes to casting horror, you can never beat Crispin Glover.
Read More